(Album) Ekueme To The World by Proper Ochimana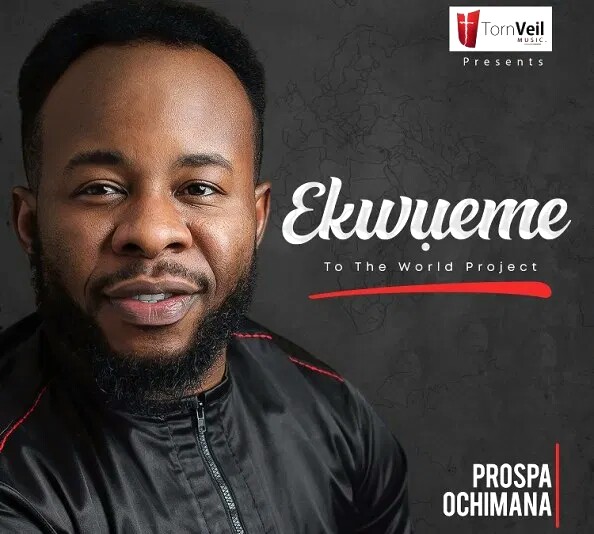 "Ekwueme" crooner, multiple award-winning music minister and Gospel recording artiste of Tornveil Music International, Prospa Ochimana, has released a wonderful body of work tagged: EKWUEME TO THE WORLD PROJECT containing heartfelt worship, unrestricted praise and great songs all round.
The album consist of eleven (11) tracks including Prospa's previously released hit singles: "Ekwueme" the song that has so far garnered over 27 million Youtube views since its release 2 years ago, "The Great I Am" (about 4 million Youtube views), "You Are Jehovah" (2 million Youtube views) amongst other powerful songs, have now been packaged into one must-have album.
This power packed project will bless your life and stir up the atmosphere of Jesus in your home, car, office and everywhere it is played.
Make sure you get it now!
You can get it from any digital stores via links below:
1. APPLE MUSIC:
https://music.apple.com/ng/album/ekwueme-to-the-world-project/1474934428
2. iTUNES:
https://music.apple.com/album/1474934428?app=itunes&ls=1
3. SPOTIFY:

4. AMAZON:

5. BOOMPLAY:
https://www.boomplaymusic.com/share/album/4629633?srModel=WHATSAPP&srList=ANDROID
.
The album is also available at all Dunamis International Church locations in Nigeria.
ALBUM TRACKLIST
1. You Are Jehovah
2. Never Look Around (Yahweh)
3. Ekwueme Feat. Osinachi Nwachukwu
4. Worthy To Be Praised
5. Chioma Song
6. Dojima Nwojo Feat. Abigail Omonu
7. The Great I Am
8. It All Belongs To You
9. Desperate For You
10. Not My Will Feat. Joy Abu
11. Chioma Song (II) Feat. Caleb David
▬ ▬ ▬
⁣⁣⁣⁣⁣⁣⁣⁣
Format: Audio
⁣⁣⁣⁣⁣⁣⁣⁣
Genre: Christian/Gospel
Album Length: 1 Hour 3 Minutes
⁣⁣⁣⁣⁣⁣⁣
Songwriter: Prospa Ochimana Except "Dojima Nwojo" Written By Joy Lifechangers (Co-written By Prospa Ochimana)

⁣⁣⁣⁣