Ughelli lights up with Praise Fiesta | March 12, 2021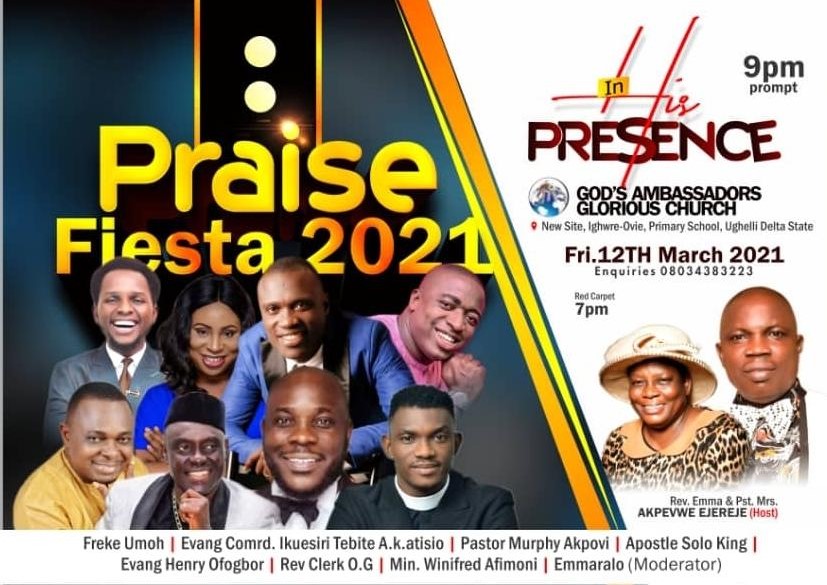 Serving and lifting up and incense of praise and worship to God…. Ughelli city is set to experience an extraordinary night of high Praise in the maiden edition of Praise Fiesta.
Speaking about the Praise Fiesta, the host Rev'd Emmanuel Ejereje said, we can never finish counting the numerous blessings of God upon our lives. The whole world has experienced a quake from it's core with recent happenings, yet all of this has not changed or affected the love of God towards us. It's in this light we all lifting up a banner of praise to the King who reigns and rules forever. Our praise is a product of a heartfelt gratitude.
The seventh edition of Praise Fiesta will be headlined by one of Nigeria's leading praise and worship leader Minister Freke Umoh, alongside the amazing Winifred Afimoni, The anointed Solokings, The energetic Clark O.G, Henry Ofogbor, one of Delta's finest, Pst. Murphy Akpovi, and His Excellency, Evang. Quincy Tebite Tisio Tisio ( The PMAN governor of Delta State).
With Emmaralo at the helm of the events as the moderator
Date: March 12, 2021
Time: Red Carpet 7pm
Main Event: 9pm
Venue: God's Ambassadors Glorious Church, New site after Ighweovie Primary School, Ughelli, Delta State
Come let's raise our Praise to God.
Ughelli lights up with Praise Fiesta | March 12, 2021The Event is powered by
God's Ambassadors Glorious Church