Not A Man by Funmi Praise Feat. EmmaOMG (Mp3 Download)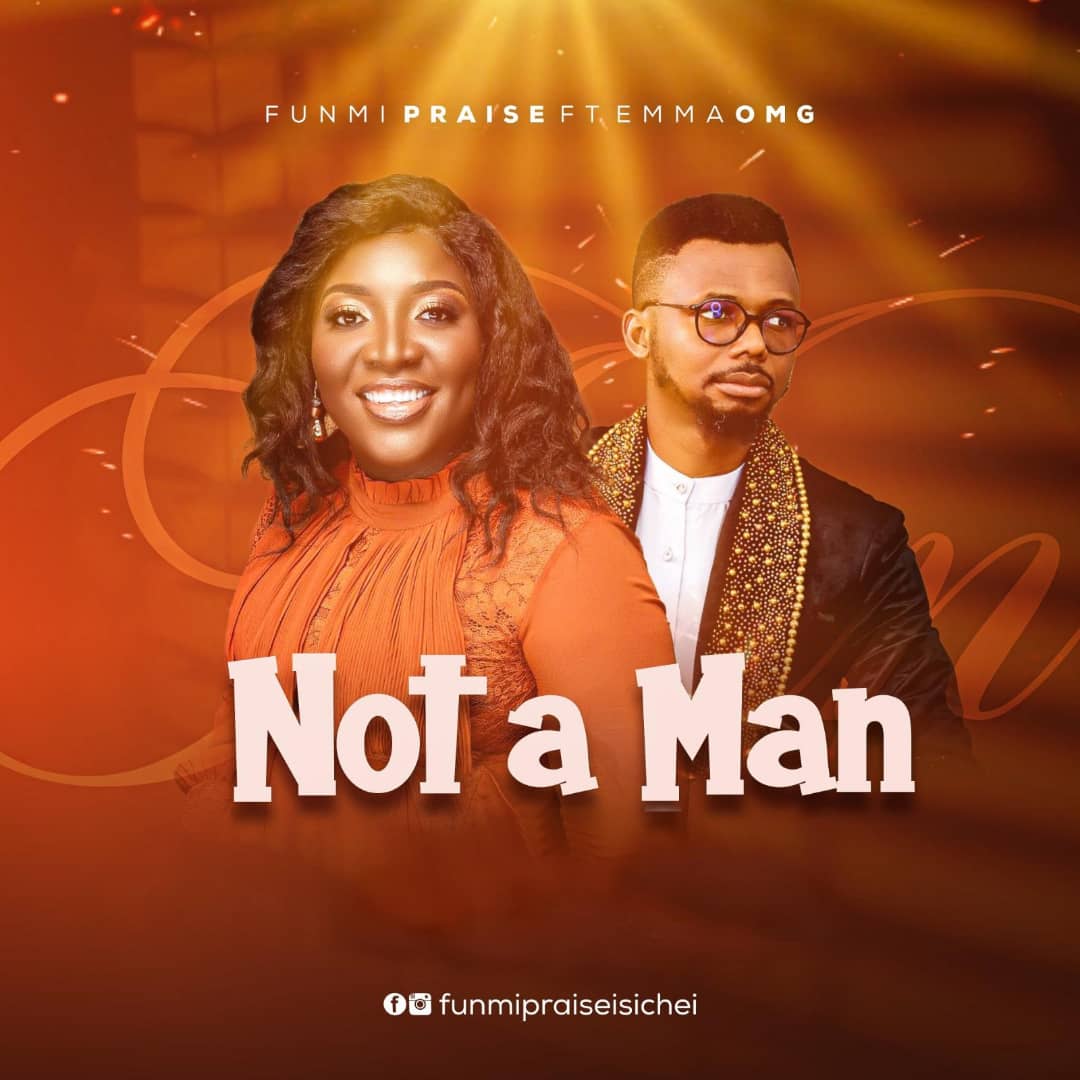 Gospel music minister Funmi Praise is out with an outstanding new effort which features sensational singer EmmaOhMaGod (EmmaOMG). The song is titled "Not A Man"
The beautiful rendition with Afrocentric vibe laced on Funmi Praise's familiar turf of Contemporary Christian Praise and Worship, is reassuring and speaks of the writer's confidence in who God is. This assurance reflects on the writer's attitude.
EmmaOMG serenading tone and mood reaffirms Funmi Praise's stand. They both conveyed a strong message of faith and thanksgiving inspite of vicissitudes on the song.
Now available on YouTube, let the word of God, delivered through these lyrics and symphony bring you hope and faith to withstand the challenge as you journey into triumphant victory!
"Not A Man" was produced, mixed and mastered by Mr. Wols.
Download Not A Man by Funmi Praise Feat. EmmaOMG below
Video: Not A Man by Funmi Praise Feat. EmmaOMG
Not A Man Lyrics by Funmi Praise Feat. EmmaOMG
Not a Man
You're not a man, you never fail
You're not a man, you never fail
You're the of God of yesterday today and forever
Not a man you never fail
Covenant keeping God the promise keeper
What you say is what you do
Your word is true it is yeah and Amen
Not a man, you never fail
Enito npaamimo kiisun kiitoogbe
Toba tisoro amu ileri se
Oluranlowomi nigba iponju oh
Not a man oh you never fail
Wonder working Jesus eh
Never ever fail
The only living God
That's who you are
God of yesterday
You do exceedingly, abundantly
More than we ask or think
Uuhuuuh
You never fail
You are the promise keeper
Too faithful to fail
The Way maker, not a man that you should lie
God of yesterday, today and forever
Not a man oh you never fail
Oh my God
Every time I lift my eyes to the hill oh
You always send me help oh
And through and through and through
You've never failed me and you'll never fail oh eh
Cos you are God and not a man oh
Igbagbo mi duro lori eje atododo Jesu
Nko je gbekemile ohun kan leyin oruko nla Jesu tori
Never fails yeah
Never fail
Dependable God oh you have never failed
Jesu never fails oh oh oh ih
Unchangeable changer oh you never change
Eh
I've searched through far and wide never seen a God like you,
Never seen a God like you but your word remain the same
Most reliable Jesu always faithful oh oh eh
My helper defender promoter you're able Your mercies are new every morning and you bless us with benefits
Day by day
Day by day
Day by day
Day by day
Jesu Jesu oh
My Father My Pilar Sustainer and you're able
Jesus Christ the same yesterday, uuuuuuh today and forever eh eh
Nobody great like you
Eh eh yeh Baba
There is no one like you
Eko yipo pada oh
There is nobody like you oh yeah
Eh never fail oh oh oh
Yeah you never fail oh oh oh oh oh yeah
You never fail eh eh eh
Oh my God