Enter – Kaycee Ndu (Mp3 Download, Video & Lyrics)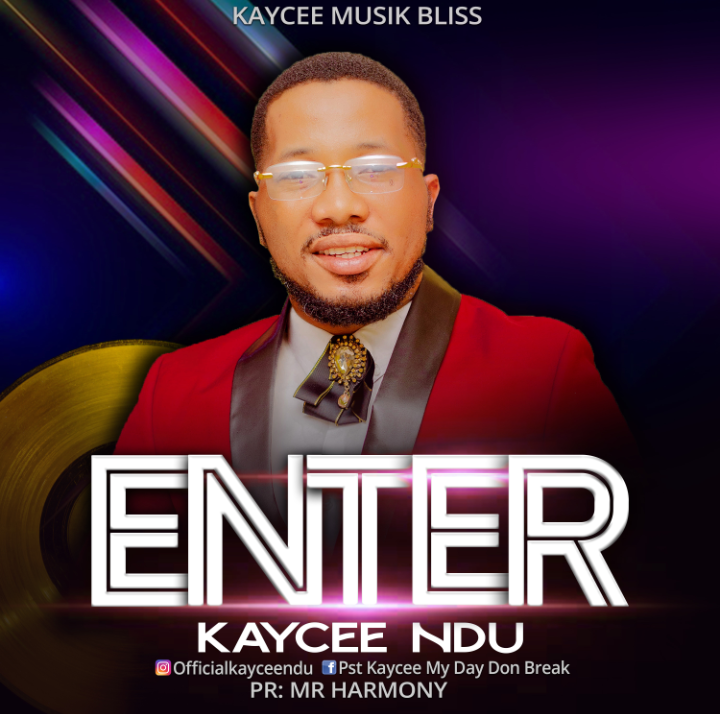 The much anticipated song from Kaycee Ndu the "My Day Don Break/Sambolowa" crooner is now out.
Speaking about the inspiration of the song, the Imo State born music artist said "we live in a wicked world that the enemy does not want us to succeed in our businesses, career, marriages and whatever we intend to do but because we have God, we are already victorious and we'll joyfully ENTER into the promised land God has destined for us".
In the presence of our enemies God has already anointed our head with oil and our cups are running over therefore even when they have the intentions to stop us we will not be stopped but ENTER into our rest while they watch.
This new song which he titles ENTER is a prophetic song which is laced with beautiful instrumental that is capable of getting you on your feet dancing.
Set to ENTER into your promised land, marriage, career, business and all round breakthrough? Use the link below to download and share with your friends. Enter is also available on all digital stores.
Download, Listen & Share Enter by Kaycee Ndu below
Video: Enter by Kaycee Ndu
Enter Lyrics by Kaycee Ndu
TONGUES
Your Enemy dem think say you nor go shine
Under thier nose you don deh shine
Yes It doesn't really matter where you are today
Your tomorrow must be better than today
See me see me now now, I don Enter now now
Your enemy them think say you nor go shine
I say na lie them talk
Cos it doesn't really matter where you are today
Your tomorrow must be better than today eehen
See me see me now now I don Enter now now
Oh oh oh Sebiribi
So the word of God say
Before you were conceive in your mothers womb
Jehovah God knows your name, no weapon formed against you shall prosper
He has anointed you to progress I say
See me see me now now, I don Enter now now
Who get ear make he hear, your miracle will silent your Insult
Who get ear make he hear, your Miracle will silent your mockers
Who get ear make he hear, your Miracle will silent your enemies
I say that is the word of God, a man with oil no man can curse
That is the word of God,a man who God bless, no man can curse
If you fight Grace you will be disgrace,
Who don pass you, I say he don pass you
Your day your day don Break
My level don change
TONGUE
Na me them deh call My Day Don Break
Pastor kaycee na him be my name
When your day break level don change, men go join you to celebrate
You deh drive your keke hearing the sound of my voice
Na your car you deh, your day go break
You deh your house your day don Break
You won marry, your day go Break
Sambolowa sambolowa sambolowa
See me see me see me
Sen sen Sen, Iyo oh oh oh oh ah ah
See me see me now now, I don Enter now now
Under your nose I go build my house
Under your nose I go drive my car
Under your nose I go marry
Because my day don Break
I go carry my Ejime
You weh deh laugh at me, you go laugh with me
You weh deh look down on me you go look up to me
Because my day my day don Break
Under your nose I go celebrate
Them go put wedding ring for my hand
Admission, I don gain am
You won travel abroad carry waka
The name of the lord must be glorify
Na who deh do am, na Jehovah
Na who who deh do am na Ebenezer
If you believe am, you go receive am
Na pastor Kaycee deh talk to you
Sambolowa sambolowa
I say your day go Break
Carry your Miracle waka
Carry Ejime deh waka
Carry your Visa deh waka
Carry your promotion deh waka
Carry your contract deh waka
See me see me now now I Don Enter now now
TONGUES
The God of Elijah is present here
The God of My Day Don Break is present here
Every sickness in your body will disappear
Every disappointment turn to appointment
The God of my day don Break
The God of Abraham Isaac and Jacob
Na my Day don Break deh talk to yo
Sambolowa Sambolowa Sambolowa
Under your nose my Day Don Break
My life e don change
If you believe am your life go change
Anywhere you deh hear my voice
You be keke rider your level go change
You be business woman
TONGUES
Your Enemy dem think say u nor go shine
Under thier nose you don deh shine
Yes It doesn't really matter where you are today
Your tomorrow must be better than today
See me see me now now, I don Enter now now
Your enemy them think say you nor go shine
I say na lie them talk
Cos it doesn't really matter where you are today
Your tomorrow must be better than today eehen
See me see me now now I don Enter now now
Oh oh oh Sebiribi
So the word of God say
Before you were conceive in your mothers womb
Jehovah God knows your name,no weapon formed against you shall prosper
He has anointed you to progress I say
See me see me now now, I don Enter now now
Who get ear make he hear, your miracle will silent your Insult
Who get ear make he hear, your Miracle will silent your mockers
Who get ear make he hear, your Miracle will silent your enemies
I say that is the word of God, a man with oil no man can curse
That is the word of God, a man who God bless, no man can curse
If you fight Grace you will be disgrace,
Who don pass you,I say he don pass you
Your day your day don Break
My level don change
TONGUES
Na me them deh call My Day Don Break
Pastor kaycee na him be my name
When your day break level don change, men go join you to celebrate
You deh drive your keke hearing the sound of my voice
Na your car you deh, your day go break
You deh your house your day don Break
You won marry, your day go Break
Sambolowa sambolowa sambolowa
See me see me see me
Sen sen sen
Iyo oh oh oh oh ah ah
See me see me now now, I don Enter now now
Under your nose I go build my house
Under your nose I go drive my car
Under your nose I go marry
Because my day don Break
I go carry my Ejime
You weh deh laugh at me,you go laugh with me
You weh deh look down on me you go look up to me
Because my day my day don Break
Under your nose I go celebrate
Them go put wedding ring for my hand
Admission,I don gain am
You won travel abroad carry waka
The name of the lord must be glorify
Na who deh do am,na Jehovah
Na who who deh do am na Ebenezer
If you believe am,you go receive am
Na pastor Kaycee deh talk to you
Sambolowa sambolowa
I say your day go Break
Carry your Miracle waka
Carry Ejime deh waka
Carry your Visa deh waka
Carry your promotion deh waka
Carry your contract deh waka
See me see me now now I Don Enter now now
TONGUES
The God of Elijah is present here
The God of My Day Don Break is present here
Every sickness in your body will disappear
Every disappointment turn to appointment
The God of my day don Break
The God of Abraham Isaac and Jacob
Na my Day don Break deh talk to you
Sambolowa Sambolowa Sambolowa
Under your nose my Day Don Break
My life e don change
If you believe am your life go change
Anywhere you deh hear my voice
You be keke rider your level go change
You be business woman, man of God are you a biker, are you a worker, I prophesy to you, your day don Break
See me see me now now
I Don Enter now now
This year, this year, this year
sambolowa sambolowa sambolowa
Aha ah ah aha aha ah
Owu howu ooo ahaha
Man of God, are you a biker, are you a worker, I prophesy to you, your day don Break
See me see me now now
I Don Enter now now
This year, this year, this year
sambolowa sambolowa sambolowa
Aha ah ah aha aha aha
Owu howu ooo ahaha