Eseun (Thank You) by Min. Adam Solomon (Mp3 & Lyrics)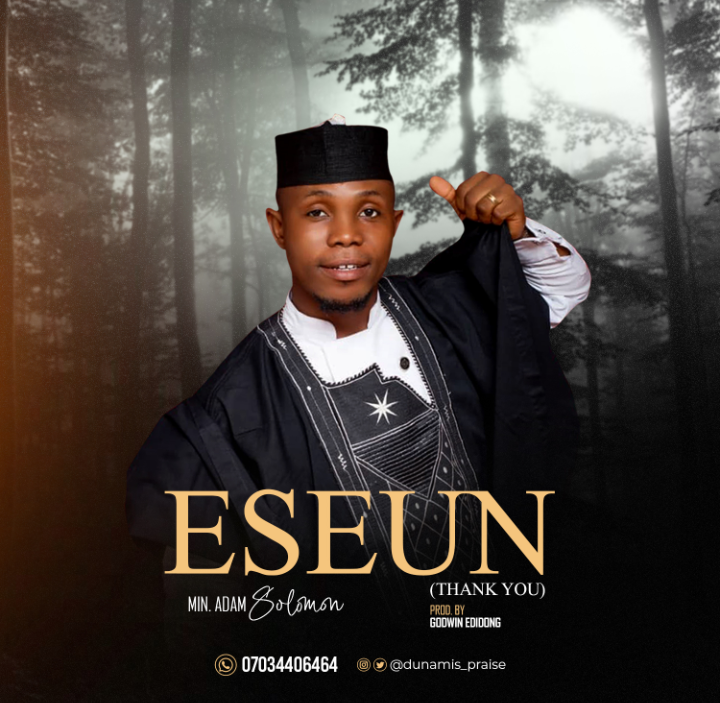 Min. Adam Solomon the Na God Dey Run Am crooner is out with his first single for the year 2021 titled Eseun a Yoruba word translated to mean Thank You in English language.
While speaking about the song the music minister said "We've been through a lot of turmoil individually and the nation at large, last year especially was one that looks as if everything has fallen apart but we're still here standing strong and getting better which is enough reason to tell God Thank You for it's Him who has been seeing us through".
Believe it or not we've all enjoyed God's goodness in one way or the other which is enough reason to be grateful.
Download the beautiful song below and join Min. Adam Solomon and a host of other grateful people to sing Eseun (Thank You) unto God.
Ekenerho Solomon known well as Min. Adam Solomon is a Delta born preacher, singer, songwriter, praise and worship leader.
He's a graduate of Delta State University, Abraka and one of the spiritual sons of Dr. Paul Enenche of Dunamis International Gospel Centre.
He's a minister whose ministrations has been backed up by the Holy Ghost. His ministrations has resulted to healing of sickness and diseases of diverse kind, setting of captives free and diverse signs and wonders.
Eseun (Thank You) Lyrics by Min. Adam Solomon
Tongues
Dunamis
CHORUS
Things you dey do
Dey sweet my belle
Love that you've shown
Blow my mind away
Eledumare I don come to say
Ese oh baba
Baba mi Ese
Things you dey do
Dey sweet my belle
The love that you've shown oh
Has blown my mind away
Eledumare, I don come to say oh
Ese oh
Baba mi Ese
Things you dey do
Dey sweet my belle (the love that you've shown)
Love that you've shown
Blow my mind away (Eledumare)
Eledumare I don come to say (Ese oh)
Ese oh baba
Baba mi Ese
VERSE
See am oooh
Wetin Jesus dey do oh (wetin Jesus do oh)
E dey sweet mind oh oh oh oh
My eyes have seen
My ears have heard
My mouth will talk about the goodness of the Lord
Oh, e dey sweet mind oh
E dey make sense oh
The love of Jesus upon my life e dey make sense oh
Na make me dey call am
Baba oh
Eledumare ese oh ese oh
CHORUS
Things you dey do
Dey sweet my belle (things you dey do)
Love that you've shown
Blow my mind away (Eledumare)
Eledumare (I have come)
I don come to say (I don come to say)
Ese oh baba
Baba mi Ese
CALL & RESPONSE
Call: Baba
Response: Baba
Call: Eseun
Response: Eseun
Call: Baba
Response: Baba Eseun Eseun
Call: Baba
Response: Baba
Call: Ese oh
Response: Eseun
Call: Baba
Response: Baba Eseun Eseun
Call: Baba
Response: Baba
Call: Ese oh
Response: Eseun
Call: Ese oh
Response: Baba Eseun Eseun
Call: Imole De Imole De
Response: Baba oh
Call: Imole De Imole De
Response: Eseun
Call: The light of my world
Response: Baba, Eseun Eseun
Call: Ikukuamanuya
Response: Baba
Call: Oshimiri atata
Response: Eseun
Call: The water that never dries oh
Response: Baba Eseun Eseun
Call: You are the way maker
Response: Baba oh
Call: My destiny helper
Response: Eseun
Call: Come and help my destiny
Response: Baba Eseun Eseun (Jesus)
Come and help my destiny
Come and help my destiny
Come and help my destiny Jesus
Help my destiny