Amaghimo by Password (Download Mp3 & Video)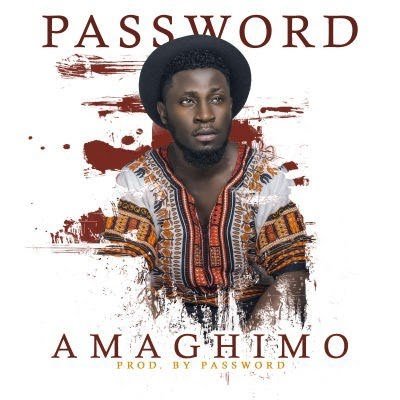 Ace Producer, Prolific Songwriter and Seasoned Singer Patrick Mathias aka Password has debut with the song Amaghimo. This one is a song of thanksgiving delivered in the Igbo language and has a lovely rhythm that would get you grooving to the song.
He has been very active in the Nigerian Music Industry for years with quite a number of hit songs,he also has a Movie Soundtracks and Awards to his credit
Password is set to change the complexion of the Inspirational/Gospel Music Industry as he releases his official offering "Amaghimo" from his Album Debut.
"Sometimes words ain't just enough to articulate your appreciation to God for everything He has done.Not the appreciation that is influenced by His gifts to you but His presence with you. Goodness is His nature so i rest in this knowing as i thank Him for both the good and the bad"
Song was Produced by Password.
Amaghimo Lyrics by Password
Lord Most High
I feel blessed to be in Your presence
When You're not nigh
How can I survive in Your absence
All my life
I was born to give You the praise
You make me smile
Now I've come to say face to face
Gwanum ebemge bidoebido
Nwe jawa Chineke mma
Amaghimo Amaghimo
Gwanum ebemge bidoebido
Nwe jawa Chineke mma
Amaghimo Amaghimo
Gwanum ebemge bidoebido
Nwe jawa Chineke mma
Amaghimo Amaghimo
Gwanum ebemge bidoebido
Nwe jawa Chineke mma
Amaghimo Amaghimo
Mge bido onye elu
Mge bido onye ala
Mge bido onye akari
Mge bido Onye akaikpa
Mge bido onye elu
Mge bido onye ala
Mge bido onye akari
Mge bido Onye akaikpa
There is no one like You
Oh merciful God
All of my life I yield
To the One Who has given me
Lord everything
And I have come to give You the praise
My delight is to lift up my hands and say
Gwanum ebemge bidoebido
Nwe jawa Chineke mma
Amaghimo Amaghimo
Gwanum ebemge bidoebido
Nwe jawa Chineke mma
Amaghimo amaghimo
Gwanum ebemge bidoebido
Nwe jawa Chineke mma
Amaghimo Amaghimo
Gwanum ebemge bidoebido
Nwe jawa Chineke mma
Amaghimo Amaghimo
Mge bido onye elu
Mge bido onye ala
Mge bido onye akari
Mge bido Onye akaikpa
Mge bido onye elu
Mge bido onye ala
Mge bido onye akari
Mge bido Onye akaikpa
Mge bido onye elu
Mge bido onye ala
Mge bido onye akari
Mge bido Onye akaikpa
Mge bido onye elu
Mge bido onye ala
Mge bido onye akari
Mge bido Onye akaikpa
Gwanum ebemge bidoebido
Nwe jawa Chineke mma
Amaghimo Amaghimo
Gwanum ebemge bidoebido
Nwe jawa Chineke mma
Amaghimo Amaghimo
Gwanum ebemge bidoebido
Nwe jawa Chineke mma
Amaghimo Amaghimo
Gwanum ebemge bidoebido
Nwe jawa Chineke mma
Amaghimo Amaghimo
Mge bido onye elu
Mge bido onye ala
Mge bido onye akari
Mge bido Onye akaikpa
Mge bido onye elu
Mge bido onye ala
Mge bido onye akari
Mge bido Onye akaikpa